Being a U.S. soccer fan is like riding a rollercoaster. We get our highs watching our women's team snatch up World Cup titles and Megan Rapinoe soar through the air like a purple pegasus, and our lows whenever our men's team gets a public thrashing from a country the size of our thumb.
There was a time when the USMNT was on the up and up. After reaching the knock-out stage of the 2014 World Cup and losing with honor to Belgium, the U.S. was supposed to have arrived. American soccer fans were looking forward to not having to shuffle our feet and mutter apologies around our international friends. Because a nation as wealthy as ours, with our resources and a population of more than 300 million people should theoretically perform better. A lot better. Instead, U.S. Soccer flew off the rails, failing to qualify for the 2018 World Cup in spectacular fashion, and cycling through coaches as it spun out of control.
Analyzing the USMNT's track record is contentious and complicated, but a broad look at our nation and U.S. soccer suggests that we can and should be improving on all fronts. We all want to see our boys do well on the international stage, and our women to continue setting the bar high. The question before us now is: Are we on the way? Are we progressing as a soccer nation?
We spoke with experts from various parts of the industry to talk about the current state of affairs and what can be done to foster a healthier, more fruitful ecosystem.
How do we deepen our talent pool? How do we institute more inclusive programs? And how, in a culture where soccer must compete with basketball, baseball, and the NFL for America's love, do we create a burning passion for this most beautiful of games?
With several important MNT matches on the horizon, we'll be watching carefully how Gregg Berhalter heads into his second year, where he's called up a relatively untested squad—12 who are uncapped and 18 with eight or less senior team experiences. Because if the USMNT fail to qualify for the 2022 Qatar World Cup, again, lord help Taylor Twellman and all of us resilient U.S. soccer fans.
So as hope springs eternal, here are our collective 2020 resolutions to make American soccer great, for once and for all.
Resolution #1: Futsal as Foundation
Americans love a good regimen—our detoxes, private trainers, 30-day challenges—we take pride in discipline and ritual. But we've yet to crack the code for proper player development when it comes to youth soccer. One of the keys to unlocking technical and tactical brilliance is with a global practice that produces exceptional results: Futsal.
If you look at the player history of top-flight professionals, you'll likely see futsal was an essential part of their upbringing. This short-sided, 5v5 game is a tried-and-true format that is credited by multiple titans of the game—Ronaldinho, Neymar, Xavi, both Ronaldos, and Messi—for their deft touch, speed of play, and superior decision-making.
If you are a Christian Pulisic fan, you may have heard his father created Detroit's first futsal league, knowing his son needed a steady diet of the South American sport. It's no surprise our brightest football talent grew up learning futsal from Brazilians and other internationals.
"Futsal in my eyes, it's creating complete players," said Roxy Kamal, Head Coach of the U.S. Futsal Women's National Team.
"I can't tell you how many parents I get every season that say it's their first time their kids are playing futsal. It doesn't matter if she's 6 or 8 or 15. At the end of the season, every single one of them comes back and goes, 'I can see such a difference on the soccer field. My kid looks so much better.'"
As a format, futsal is uniquely designed to engage players on a cognitive level. It's said that there's more than 70 transition game cycles in a futsal match, during which players continually assume the role of forward or defender. Futsalers learn how to read and anticipate the play two and three steps ahead; they develop an attack-defend-counterattack mindset; and are required to be aware of positioning and movement at all times. These essential components are also transferrable to the outdoor pitch, so unsurprisingly, 11-a-side players who train in futsal show massive gains in speed and quality.
---
If it was up to me, I wouldn't put them on a soccer field
until they were like 10, 11, 12 years old.
---
Brazil, considered the gold standard in futsal, also boasts the most number of World Cup titles and consistently produces a bounty of iconic, world-renowned footballers. Futsal in general is commonplace in prolific soccer nations that generate a large volume of pros.
"I'd say the most profound thing that I learned was that there are more players registered—meaning officially registered—futsal in Brazil and in Spain than there are soccer players," said Rob Andrews, President of United Futsal, based in Raleigh, North Carolina.
In fact, young players in Brazil have no choice but to play futsal, because there is no interscholastic 11-a-side soccer program. There is, however, highly organized and detailed interscholastic futsal programs.
"Most of them can't afford—and the same with Spain—to have soccer fields. It's such a privilege to have a middle school soccer field. Even [U.S.] elementary schools in some places have soccer fields, that's absurd to Brazil," said Andrews. "For us it's like, 'that grass field is not quite nice enough for my son.'"
It seems the U.S. in this matter suffers from an embarrassment of riches. Our abundance of full-sized pitches and indoor arena fields (the latter an inheritance from defunct ice hockey rinks) isn't helping—in fact it may be holding us back.
"If it was up to me, I wouldn't put them on a soccer field until they were like 10, 11, 12 years old," said Kamal, who also runs the all-girls club Gamer Futsal. "There's no need for them to play on a big field, because they hide. They don't touch the ball. They're just running around and they don't really understand spatial awareness, especially in relationship to their teammates."
While there are more futsal clubs and facilities in the U.S. now than before, it's not nearly as prevalent as it is in other nations. Andrews hopes to remedy this by providing an annual slate of futsal competitions, like the Champions Cup Series, so existing futsal clubs and soccer clubs considering adding a futsal component will have a consistent slate of programming in which to participate.
And the great news about futsal courts is that they are cheaper to install and maintain than your average outdoor or arena field. The bad news is is that convincing facility operators, many of whom have been running arena fields for years and happily servicing adult recreational leagues, will be an ongoing process. Culturally, the fast-paced, stylish, high-scoring nature of futsal makes it a kindred spirit to American basketball and if exposed to the American public, both Kamal and Andrews believe it has the potential to blow up in the U.S.
"All they really have to do is offer it and the kids will come running," said Andrews.
Resolution #2: Grow It From Home
For much of the past decade, Americans have been looking abroad for USMNT-eligible talent. Jurgen Klinsmann was most notorious for it, scouting German-raised players to round out his roster, and the topic has been a heated one with Bruce Arena and Abby Wambach among the vocal critics of using foreign-born players.
But conversations about patriotism in this case are unproductive at best and xenophobic at worst. The USMNT should diversify as much as possible and recruit the best talent from the widest possible pool, including dual nationals, naturalized citizens, and refugees. What's more important is the question this raises—where are these players being developed, and why aren't more qualified athletes being produced stateside?
"What I really think it comes down to is the structure of our game in this country," said Sacha van der Most van Spijk, Director of the LA Galaxy Youth Academy and a seasoned scout for both professional and national teams.
"Just L.A. and Orange County are almost as big as a country like Belgium, which is number one ranked in the world with FIFA. In Belgium, though, you have 36 professional clubs in the first two divisions while in L.A. we only have two professional clubs in the first division and two in the second division in the USL."
Having a stockpile of competitive, regional teams that can play year-round is how successful countries spur competition, generate a high participation rate, and get the most out of their talent pool.
---
"Here in Southern California, we could build teams that represent their own area."
---
"The example I just gave for Belgium is the same in Holland or France or Spain or Germany," said Van der Most. "Pretty much every neighborhood has a club and every neighborhood has in addition to youth soccer, also adult soccer. Players when you're 16, 17, and you're really good, you play with and against adults. It's all within your own area."
Contrast that to the U.S. where, "literally you spend thousands of dollars on going down and playing a team that's a two-hour drive away," he added, referring to a recent trip to Florida where his Galaxy team played a squad from San Diego.
And it's not just the quantity of local clubs, it's also the cohesiveness, or lack thereof, of the organizing entity.
---
"The typical cost for a youth player to participate in a club is $2500.
And for clubs, there's league fees, field fees, ref fees, it's a lot."
---
Club soccer in the United States is massive, unwieldy, and incredibly complex. Every state has its own governing board (California has two) and within each state there's a multitude of leagues. California alone has the Development Academy (DA) operated by the US Soccer Federation (essentially an ID opp for the national team); the Elite Clubs National League (ECNL) and National Premier Leagues (NPL), both highly competitive; and dozens of other leagues of varying quality below that.
Some leagues are affiliated with US Youth Soccer, others with US Club Soccer, while AYSO is a completely separate recreational entity that organizes its own events. In Southern California, Coast Soccer and SDCSL operate with the most number of intermediate and lower-level teams.
Clubs vary in size but are generally separated into three or more tiers of competitiveness, with league fees averaging out to a couple thousand per player. There are a few exceptions. The DA, for example, has the most number of non-paying athletes, with players who are either on scholarship or are subsidized by the club. Which sounds nice, but for a club to have a DA team, they must also have access to high-quality facilities and a track record at big tournaments. Likewise, for a club to have an ECNL team they must operate a team in each age bracket. This is all to say, club soccer in the U.S. is very complicated. But why?
A most American value: profit.
"There's too much money to be made in club soccer, it's ridiculous," said Stephen Chase, director of Coaching at TFC in Texas and a professional scout for the Trinidad and Tobago national team. "The typical cost for a youth player to participate in a club is $2500. And for clubs, there's league fees, field fees, ref fees, it's a lot."
Chase, who has coached in California, explained how the economics of this convoluted system drive many decisions, whether or not it's best for the players. A common example: a big club might steer their best staff to their top-flight teams, and leave their lower-level squads in the care of beginners. What's ironic is that these bottom-tier teams, accumulated en masse, are what fund the top tier.
"In the U.S. it's the opposite of other countries. It's funded bottom up. So the worst teams are funding the club," said Chase.
So why do parents continue to shell out thousands of dollars? "Because they think their kid can eventually get to the DA or ECNL team," said Chase.
Clubs need teams to fund their overhead, but quantity does not equate to quality, nor does it necessarily encourage a track to advancement.
For example, smaller, competitive clubs who sit just below the NPL or ECNL should logically want to make the jump to the higher, more competitive divisions. But because there are fewer teams in the NPL, ECNL, and DA, those groups generate less income for the club, while requiring more seasoned (and expensive) coaches, trainers, and facilities. It's a financial deterrent that discourages clubs from taking the next step to a more competitive strata.
"If we started organizing soccer in a way where it all falls under one umbrella and where every neighborhood has a club, or a city or a business has a club that represents their own area, then it becomes a lot easier. Here in Southern California, we could build teams that represent their own area," said Van der Most.
---
"When I heard Taylor Twellman go on his rant, I used to think it was insulting.
But when I thought about it, there is absolutely no reason the U.S. should lose to Trinidad & Tobago."
---
In his role with the MLS, Van der Most has been an advocate for fostering homegrown talent and using the local semi-pro team as a feeder. This is in line with a growing shift in the MLS, which has been increasingly focused on developing through their academies. Part of the credit goes to the Homegrown Player Rule introduced in 2008 that incentivized MLS clubs to invest in local footballers. Interestingly, the ripple effects of this change are now appearing on the national level. At the time the rule was introduced, there were no homegrown MLS players on the USMNT. By 2019 there were nine.
"If you look at L.A. Galaxy, right now there's a USL program, which the Galaxy pretty much uses as a U22 team," said Van der Most. "Just this year, there's been several youth players that have signed USL contracts and that are playing against full professionals. I think that's a good example just within the region."
Creating a local pipeline also changes the timeline for upper echelon U.S. players, allowing them to eschew the college route and start their professional careers earlier. Previously, players would go from club to college to professional leagues before making their way to the national team in their mid to late 20s. Now, many are skipping four years at university to go pro in their late teens or early 20s.
Van der Most also pointed out that when clubs prepare players solely for the college route, these kids aren't practicing with older players—"a huge miss" because of the importance of young athletes training and scrimmaging alongside more seasoned athletes.
Resolution #3: Don't Sleep On Talent
In January 2018, when dual national Jonathan Gonzalez announced his decision to represent Mexico instead of the U.S., it released a flurry of incensed articles about the USMNT. Arrogance. Negligence. Incompetence. The American soccer community was enraged because unfathomably, the USMNT had managed to let one of its top prospects slip away—someone who had expressed a great desire to play for the U.S. and actually had represented the country from their U14s onward. So how could this happen?
By now, we can all agree the pay-to-play model is an inefficient system—it's costly, time-consuming, and favors the rich. Much less discussed is how this system falls across racial and ethnic lines.
To be fair, most U.S. coaches oppose pay-to-play on a philosophical level. But on the ground level, barriers of entry persist on a wide scale. Despite the good intentions of many coaches and managers, some underlying root causes haven't been fully addressed. One of these is the glaring question: Is U.S. soccer ignoring communities of color?
The debate came to a head when the news of Gonzalez broke, but it's not the only time the U.S. has lost out on talent. Seventeen-year-old L.A. Galaxy phenom Efraín Álvarez, dubbed the "best talent in the MLS" by Zlatan Ibrahimovic, also opted to represent El Tri after playing for the U.S. U15s.
Álvarez is an L.A. native, and Gonzalez grew up in Santa Rosa, CA. A few years ago, Gonzalez had LigaMX teams climbing over each other to sign him. That same player was reportedly ignored by the USMNT. So when the Mexican Federation sent their top brass to his doorstep, he went where he felt valued.
On the women's side, observers and journalists have noted the overwhelming whiteness of the USWNT, but this otherwise hot-topic issue has been overshadowed by (also important) narratives about gender equality and equal pay. Unfortunately, the lack of conversation about the absence of players from Latinx, Asian, African American and other communities of color is a missed opportunity to examine the sport through an intersectional lens.
A look at the U.S. census shows, predictably, the ethnic makeup of both the USMNT and WNT do not reflect U.S. populations. Latinos make up nearly 20% of the U.S. and are a rapidly growing demographic, yet account for only 12.6 percent of the overall player pool in the past decade. That may not seem like a large deficit, but given the extreme popularity of football in Latin American countries, and the communities' deep affiliation to national and club teams back home, the Latinx player pool in U.S. soccer should actually be much higher.
"Besides not having as many professional clubs, soccer is very fragmented [in the U.S.]," said Van der Most. "In other countries, all soccer falls under one federation where people all work together. That, I think, is one of the reasons why we might not see all of the top talent that is available in our area."
Some clubs have taken notice and are working to correct this for generations down the line. Northern California, according to Van der Most, has prioritized inclusivity and education, as well as a regional development program.
But whether or not U.S. soccer is consciously or subconsciously overlooking Hispanic talent (and other players of color) in favor of a more Eurocentric profile, and whether or not coaches and parents are willing to acknowledge the ongoing divisions in the sport, we can all agree that missing out on talent is something the U.S. cannot afford. Let's not ignore that.
Resolution #4: Know Better, Do Better
We have the raw elements. Fields, funds, people. So how do we take these components and build something substantial and wide-reaching? By learning.
Comprehensive education will deliver U.S. soccer out of what Andrews calls "The Great Depression of American Soccer." That entails informing everyone, from the parent to the player, and creating an extensive plan to reform league structures and development programs.
The first, possibly most difficult group to teach? Parents.
Educating Parents
"The biggest obstacle in youth soccer and specifically here in Southern California that I've noticed is parents," said Walter Merino, founder of Olé Soccer Club in the San Fernando Valley.
"It's pretty tricky because club soccer's competitive. If clubs lose they're going to go to the team that beat them, they're going to go to the team or the club that is winning. And winning now might not mean winning long term."
Jaguar parents and a win-at-all costs mentality can lead to the pursuit of false idols in the form of plastic trophies. Parents must understand that winning matches, particularly at younger ages, isn't by itself indicative of true development.
"We're not focused on short-term gains, we're focused on short, mid, and long-term development," he said of his club, which he aspires to make the "Ajax" of the U.S. "We want to make the United States compete against the best around. We want to develop players long term to be part of the women's or the men's national team."
Merino's club focuses on the very youngest, ages 3-8 years old because, as Merino will fervently tell you, that's the most important stage of a player's life. At one point, the club had older teams, but lacked the staff and resources to sufficiently serve them. Merino also felt they didn't fully share the club culture, so they decided to restructure, let those teams go, and concentrate solely on building from the earliest stages.
"In any organization you're not going to have everybody on the same page, nor do you want everybody. You want those that understand the vision of the organization, understand how to execute and why it's important to have that farm system for your organization. Because that's the lifeblood," said Merino.
Establishing a clear, uncompromising vision has allowed Merino to create consistency across age groups, and put the onus on parents to buy in or walk away. Those who stay know what to expect, and understand what the club is trying to achieve.
"If you see all of our teams play, they have a very similar style of play. We're a possession-based team philosophically, but with a lot of individual skills within there," he said.
And oftentimes, parents just need to witness and experience the process.
"I don't know how many of these, you know, dads I have of these kids I coached who have literally never seen soccer and then their kids are playing soccer and they get involved and then they're like, "Futsal, what's that?" And then they come, they're like, "Dude, why don't we do this all year?" said Kamal. "Until they've had that experience, it's really hard to teach them. They have to really go through it."
That ah-ha moment is crucial for parents. Watching a few YouTube videos on soccer drills does not an expert make. Parents need to trust the experts, and the best way to help parents do this is by ensuring coaches are, indeed, experts.
Educating Coaches
In countries as small as Iceland, the national football association requires coaches be licensed, so even the youngest age groups are guaranteed quality, standardized instruction.
"In Germany as well, youth coaches they have their UEFA B licenses," said Merino. "We're talking about U6, U7. Compared to the United States where you have a parent coach that attends, never played."
---
"It's sad to see kids that have natural athletic and physical attributes are valued at times over kids that actually love the sport and can develop quickly because they are good, intelligent soccer players."
---
Volunteer parent coaches, though well-intentioned, have set us "very far behind" our international counterparts, Merino explained. Even at the preschool age, kids need coaches that understand child development, and how and when to introduce different skills and concepts. Things like attracting pressure, breaking lines, body position, foot selection, identifying space, and most importantly, confidence on the ball.
"Kids as young as five years old, they fully grasp these concepts," said Merino. "It's not about the concepts being too complex, because they're simple. What is lacking is the ability for somebody to actually teach it and how to simplify it for a kid that is five."
To gain this experience, we need only look at successful programs abroad. Andrews, who also serves as Director of International Development for the Marc Cuban-backed Professional Futsal League in the U.S., described the nuances of training programs abroad.
"They got to get over to Spain for a week or two weeks and really understand the inner workings of how sessions are built, of how the game is just dramatically different," said Andrews. Details as specific as the size of the court, or a variation on keeper rules can significantly impact player development.
Take Brazil, which Andrews describes as "an island by itself" in producing pivot players.
"They play on smaller courts, which is interesting. So that could be what leads to it, and they also don't have a rule that Spain has—a rule that up until 16 [years old] the ball has to bounce once on your half before."
Those two minute details have led to major differences in style and ability between the two countries. In Spain, you have to actually build out of the back, Andrews explained. "We would in America eat that up, like applaud them for this great development. My Brazilian guy's like, 'Yeah, that's why you have no pivots.'"
The Spain versus Brazil systems isn't about one being better than the other, but the understanding that every aspect of training and methodology informs the type of player you develop.
---
My brain was on fire. I sat there and I watched them train, I watched them play, I took notes like crazy and I came back and like, we had to change the way we teach this game.
---
For U.S. soccer to mature, coaches need to appreciate these nuances and be intentional with each passing drill, rondo, and possession exercise, knowing exactly how practice translates to the game.
When Kamal first starting playing futsal, she and her friends, many former college players, were taught by other male futsal players on the pitch, their only source of futsal coaching at the time. "We were just out there training, just playing games and stuff. The guys would kind of stop us and be like, 'Hey, you know when the ball's here …' They were kind of teaching us as we went."
To fill this knowledge gap, Kamal studied the game ferociously on her own—she watched futsal matches, talked to coaching staff, and asked players for advice. During one of her earlier futsal trips, she took an American team to Spain and played Atletico Madrid and Benfica.
"We got our asses handed to us. ... My brain was on fire. I sat there and I watched them train, I watched them play, I took notes like crazy and I came back and like, we had to change the way we teach this game."
---
"The biggest thing that futsal brings that the others don't is an instant assessment, an instant benefit/consequence."
---
In acquiring an advanced knowledge of the game, coaches also need to shift their idea of what constitutes a good player. For too long, the U.S. has leaned on superior athleticism as a crutch, and the cracks are beginning to show. Although the WNT were victorious in the latest Women's World Cup, strong performances from countries like Japan, England, France, Sweden, and Brazil indicate the margin of difference is closing fast.
"It's sad to see kids that have natural athletic and physical attributes are valued at times over kids that actually love the sport and can develop quickly because they are good, intelligent soccer players," said Merino.
"You can't just kick the ball up and play the same way hoping for your fastest striker to go out there and beat two defenders. The game is changing and players are evolving, and it's up to coaches to value more of the players that understand the game and can improve to whatever level you're coaching them."
As the modern game advances, pure athleticism is becoming more and more irrelevant. Even now, the average height and weight of a professional footballer clocks in around 5'9 and 145 pounds. Check out the build on Luka Modric, Messi, and João Félix, and you realize the advantage lies in their superior technique and game IQ.
"You watch soccer nowadays, you rarely see teams now playing so direct when they don't need to. You see your centerbacks, they're just confident on the ball. The modern goalkeeper, amazing, so good with his or her feet, right?" said Merino.
All around, the sport is becoming more sophisticated, cerebral, and tactical. To stay ahead of the curve, you have to teach them young. But you have to teach them the right way. "It comes down to the coaches at the youngest levels, preparing them for multiple scenarios," said Merino. "They're ready for building out of the back, they're ready to play through the midfield, they're ready to finish crosses, they're ready for all that. I think giving them the foundation at these youngest ages is the key thing."
Teaching Kids
In developing kids into smart, versatile players, coaches and parents must create an environment that maximizes potential for learning while pushing them to their highest degree of competitiveness.
"Our job at the youngest ages is to make sure they grow a love for the sport," said Merino, "Where they're going to return, they're going to have fun and create memories, not only for themselves, but for the parents."
In lieu of dull warm-up drills, Merino starts his practices with pickup. "Literally you show up. You put on a bib and we're just playing from the beginning. That creates joy. That creates, 'I can't wait to get to practice. I can't wait to go out there and start training.' Kids when they want to come, they think of soccer, they don't think of dribbling through cones," he said.
From there, players are introduced to various ball mastery skills and tactical concepts, increasing with complexity as they get older. Merino also hosts an optional futsal pickup every Friday.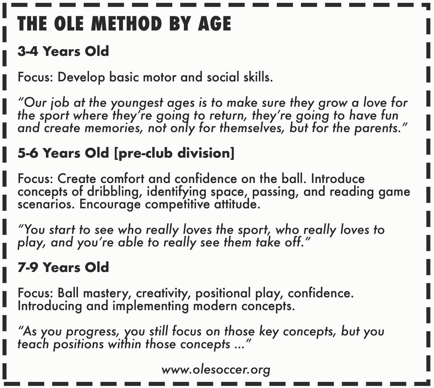 In the U.S., soccer training has traditionally entailed a lot of repetition and a boot camp mentality, but without players understanding why they're doing what they're doing. Of course, mastering any sport requires repetition and mental toughness, but great things can happen when we simply allow the game to do the teaching.
"The biggest thing that futsal brings that the others don't is an instant assessment, an instant benefit/consequence," said Andrews. "If you make a bad decision, you're punished immediately. And if you make a good decision, you're rewarded immediately. There's that instant feedback that the game gives you that you don't need a coach for."
The good news is, many up-and-coming coaches are embracing international techniques and looking to deepen their knowledge base as managers.
"I feel like the younger coaches are much more international focused. I hear more of my friends going on these two-week soccer coaching courses and talking about getting UEFA licenses instead of American ones. There's a resurgence of maybe there's life outside of Alexi Lalas and what he's saying," said Andrews.
---
"I was 23. I was two-year captain of my college team and just come out of a season and had brand new everything. And I went out on these street courts and there was a guy with like a white tank top and jean shorts, Timberland boots that were untied, and he smoked a cigarette before, during, and after the game … And I couldn't get the ball from this guy."
---
"Seven or eight years ago, it was 'What is futsal?' at the start of every conversation, and now it's 'How do I do futsal? How can we as a club implement futsal?' I don't think the next step is adoption, meaning trying to get them to buy into this. I think the next step is logistical."
Added Merino, "These concepts, these are more than just soccer—what it is to be part of a team, what it is to create an environment for players to come and feel welcome, what it means to be valued, what it means to be coachable, what it means to be a leader ... Not everybody's going to be a pro. Not everybody's going to stick with soccer in a year, two years, five years, but they're going to leave a better person after leaving our environment by us teaching them these things."
Resolution #5: Grow the Culture
"I was 23. I was two-year captain of my college team and just come out of a season and had brand new everything. And I went out on these street courts and there was a guy with like a white tank top and jean shorts, Timberland boots that were untied, and he smoked a cigarette before, during, and after the game … And I couldn't get the ball from this guy."
Andrews likes to tell this story of his stinging embarrassment as an American soccer bro in the streets of Spain, before he transformed into a worldly futsal evangelist, to illustrate the synergy between human and ball, and where such connection is forged. On the streets.
Football is simple. It's just a ball and some people. Yet it combines the cosmic elements of time and space and applies them to the earthly plane, so anyone can experience these universal components on the asphalt, at their feet.
"I've had a coach my whole life since I was five, I've had private coaches since I was probably 10, played in college, and this guy has never had a coach for sure. He's a street player. And he is fat. He's nothing like what I was told will make you a player, he's the opposite of all of it, and yet here he is with a fundamental understanding of the game that surpasses anything to the day that I have," said Andrews.
In street soccer, you are allowed to take risks and you're allowed to fail. You're also subject to the rules of the street. Winners play and losers wait on the sideline. There's no coach to tell you to do better. There are mean guys and show-offs and it's on you to problem solve and improve. Passion is a direct product of the will within each player. The greater the will, the greater the mental toughness, creativity, and instinct.
According to Andrews, even Spain's elite futsal program is concerned their system of tactics is so good it may be stifling individual creativity.
"Basically the best thing you can do is let a kid be in Brazil and play street soccer or street futsal, just kind of unorganized, let them play out there and then bring them into our system and we can take that player and win," said Andrews.
Likewise, American parents would do well to simply let their kids play and learn the elements of the game on their own, without the pressure of performing and achieving. Because drilling our youth to death isn't going to make them good at soccer. But letting them kick around with friends at the park, that might just give them a lifelong love of the sport—a trait every great player possesses.
Now What?
One could argue our fundamental issues with U.S. soccer stem from our predominant cultural connection to the game—the for-profit, capitalist, pay-to-play structure, the emphasis on trophies and titles, the military like training, and rigid athleticism. But if we can realign our appreciation for the game, we can also tap into our uniquely American strengths—the diversity of our communities, our abundance of land and field space, and a historic fervor for innovation.
In countries around the world, football is an existential matter. The game runs deep into people's veins, connecting family and friends, creating a sense of belonging, and serving as an escape from poverty and persecution. As a sport, it is a complex mixture of art, athleticism, and theory combined into one. Can we, as Americans, appreciate this?
"I think it's going to take a grassroots movement to get where we want to go, and all it takes is people to say, 'Yes, we're into this, we want to do it.' The American way," said Andrews. "You decide you want to see something happen, and you go make it happen."