When Iceland became the smallest nation ever to qualify for a World Cup in 2018, Arnar Bill Gunnarsson became a go-to source for sports analysts and pundits around the globe trying to understand just HOW did this tiny island the size of (fill in your local metropolitan city here) defy the odds and challenge the giants of football?!
Iceland is a true statistical anomaly. Over the span of two years, they vanquished England (Euros 2016, 2-1), frustrated Portugal (Euros 2016, 1-1), and depressed Argentina (World Cup 2018, 1-1). Within four years, they went from being ranked 133 to 23—in the world. To put this in perspective, without employing that tired city metaphor everyone else is using, it would be as if a country the size of a flea went toe-to-toe with a Rottweiler. And expected to win.
"The Icelandic nation finds it completely normal that we can compete against England or beat England, but if we lose against a smaller nation we're like, 'What the hell is going on?!'" Arnar explained. "So that's the mentality. You have this belief every time you go play. We think we can win this game."
Arnar has been the Technical Director of Iceland's Football Association (known as the KSI) since 2014 and before that a longtime coach and scout. During the 2016 Euros, he was down in the trenches with the coaching staff, helping Iceland's national team strategize against England—a match they won 2-1, not only upsetting the major favorites but decisively outplaying them.
When Iceland later qualified for the World Cup, it was as if a dam exploded and the entire nation—its fans, players, and coaches—came flooding into the global spotlight, puzzling and delighting viewers from far reaches of the globe.
Iceland became a cultural curiosity and a media darling. There was the supporters group, the Tólfan (meaning 12th man in Icelandic), who assembled en masse and made famous the breathtaking Viking Clap. There was the head coach, also part-time dentist, who would meet these supporters in a bar before each match to share the game strategy. There was also this insane commentator who sounded always one scream away from an aneurysm and made even the most excitable football hosts seem like ASMR instructors.
But above all, they had their team spirit. A whopping 8% of Iceland's population attended the World Cup in person, 99.6% of their TVs were tuned into the games, and none of the players seemed in the least bit intimidated by the multimillionaire football stars they were playing against. Iceland's unabashed, if at times naive, self-belief was endearing and infectious.
But while many attribute their inspired performance to this "crazed" mentality, Arnar suffers no delusions about the future of Iceland football. Many have asked him if this success will continue, and his answer is simple: "I don't know."
This "I don't know" is an enlightened "I don't know," drawn from a deep familiarity with the country's football history, and broad knowledge of development practices around the world.
After all, there have been other fairytale runs in the past. Other improbable nations have risen to beat the odds—Bulgaria in '94, South Korea in '02, Ukraine in '06—and most of these Cinderellas have since returned to their former state and rank. Which begs the question: Was Iceland, too, just a flash in the pan, never to contend again?
We spoke with Arnar and Thorlakur Arnason, Iceland's former youth national coach and current Technical Director of the Hong Kong Football Association, to break down their football system and better understand (perhaps even reverse engineer) the secret to this country's magical come-up.
A Mini-Pitch Outside Every School
Arnar and Thorlakur's experience growing up was not your average "back in my day" story. Kids actually did play football on gravel and snow and freezing temperatures. The intemperate cold and rocky pitches weren't as punishing as the fierce winds, which would blow the ball about unpredictably. Iceland, for those unfamiliar, is basically every super cold-looking shot from Game of Thrones (it actually was a main shooting location for scenes North of the Wall). It's home to an extreme terrain of active volcanoes, massive glaciers, and lava fields.
"I grew up in the northern part of Iceland in a town called Akureyri where there lives about 15,000 people. I played for a club called Thor—like Thor the god," Arnar recounted.
"During that time facilities were not great, we didn't have these indoor facilities or artificial pitches, so football was basically a summer sport, and the summer in Iceland is quite short. So it was playing handball, basketball during the winter—maybe one football session per week. And during the summer it was purely football … my favorite hour of the week would always be the football part."
It wasn't until 1957 that the national team got their first grass field. So for decades, the level of football floundered. Then in the late '90s, the KSI took a reconnaissance mission to Norway, a country that deals with similar climate issues, and came back with a plan: Build a network of indoor and outdoor heated pitches across the nation to allow for widespread, year-round play.
Since 2000, Iceland has built seven full-sized indoor football halls, 20 outdoor heated fields, a handful of half-sized indoor arenas, and 150 mini-pitches.
These enormous football halls were front-and-center in the media coverage around Iceland, and by all accounts these facilities are majestic and impressive, housing a full-sized artificial field, sometimes basketball courts and ping-pong tables, and teaming with hundreds of kids and families every day. A veritable footballer's paradise. But, as Arnar and Thorlakur both point out, there's only seven of them.
"I think it's been hyped a little bit about the facilities," said Arnar. "The players on the [national] team now, they were 13, 14 years old when the indoor halls came, so you cannot really say that they grew up in the halls and that's why they're so good. Everyone has good facilities, but suddenly if Iceland has good facilities, they will become just as good as the other ones? We're only 350,000, and we're playing, you know, Germany with 80 million, and Turkey with 80 million, and we're beating Turkey … Definitely I think the football in general is getting better because of the facilities, but you cannot point at these boys and say, this is the main reason."
The vast majority of players, in fact, actually train outdoors on heated pitches.
"The full-size halls have helped us the most in quality training for the elite, not the mass," Thorlakur explained. "National teams started training inside, coaching courses were held indoor, and a lot of tournaments and games in both youth and senior football moved inside."
What has made a prominent impact at the grassroots level are the mini-pitches, which were built outside nearly every school.
"That has had a huge impact and brought street football back," said Thorlakur.
Because Iceland has no organized football teams in school, these mini-pitches are purely to give kids a place to play freely, and as much as they want.
"These pitches are absolutely vital because nobody, in my opinion, becomes a good football player only showing up three times a week to a training session. You have to be able to play football 24/7," said Arnar. "When these mini-pitches came, everyone could go out and play football anytime they want."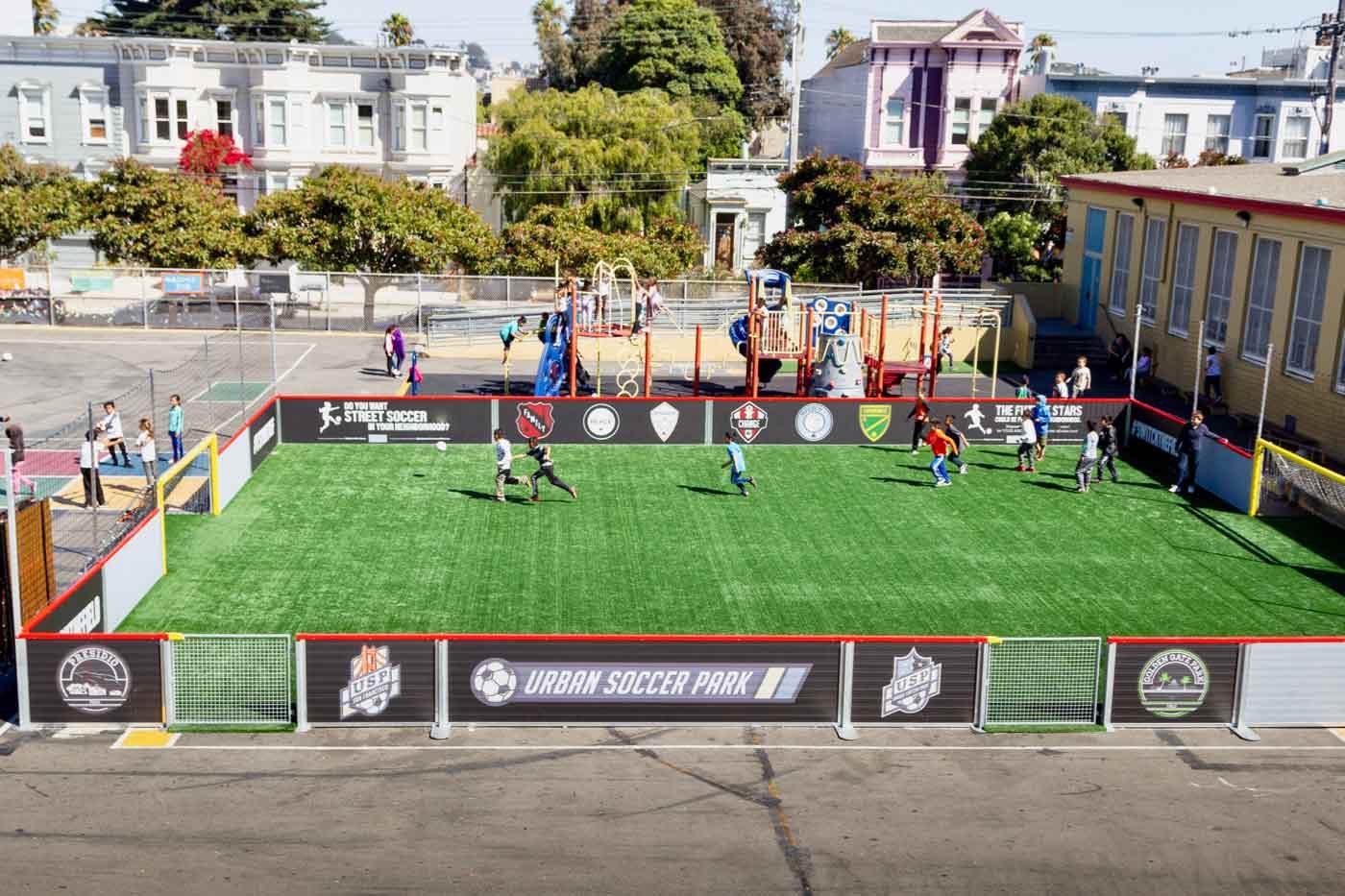 Keep Your Circle Small
The powerful benefits of small-sided football, including street and futsal, have been universally endorsed by industry leaders. In particular, the 5-a-side format has been well-documented for its essential role in technical development, decision-making, and creativity.
But what, specifically, can be done with small-sided play?
"I think it's very important to play as much as possible 1v1 up to 5v5," said Arnar. "Every research shows that the fewer players, the more touches on the ball you get, you get more goal chances, you get more shots on goal, you get more 1v1s and so on. This is very important."
At a typical practice in Iceland, about 50 kids will be broken up into groups of a dozen, according to skill level, and given drills to practice on a small, segmented part of the field. In that group of 12, kids will do 2v2s and 1v1s and also be given free time to scrimmage.
"1v1 is basic for every football player, defending and attacking. So that needs to be shown/set up/taught at an early age. Same goes for 2v2 and 3v3. People are actually emphasizing more on 2v2 and 3v3 than 5v5 with the youngest kids today," Thorlakur said. "Basically, 2v2 is the best exercise as when you play a game you need only one player to cover the goal (goalkeeper) and one outfield player."
These same elements are furthermore mirrored in pickup games kids play on their local mini-pitch.
"I think we should bring street football to the training ground as much as we can," said Thorlakur. "I also think we should set up practices in a way so the players themselves need to find the solutions."
Like many top-performing countries around the world, the modern philosophy for developing youth is to let them solve the problems. For example, setting up two goals on each side of the pitch so players learn how to attack by switching left to right, and how to transition quickly to defense.
"I am a big fan of setting up tasks for the players to solve," said Thorlakur. "Kids do not hear that well when they are young, but they are better at seeing things. So in general, tactics should be taught from the beginning, but try to hide it as much as you can when kids are young and let them come up with the solutions inside the small-sided games you set up."
No Volunteer Coaches
If you grew up in the U.S., chances are you have had at least one unsavory experience with a coach, manager, parent, or some combination of those.
Iceland's FA has nipped this potentially strained relationship in the bud with one simple solution: require certified, quality coaches. In Iceland, 70% of the coaches have at least a UEFA B license, and the remainder have a UEFA A license. Anyone with the interest and passion can become a coach, but before they do, they must be schooled in the trade.
"There are no volunteer coaches. Everyone gets a salary, even the assistant coaches who are maybe players with the U17 and are assisting the U6," said Arnar.
The synergy between parents, coaches, and kids is positive, functional, even fun. (Imagine that!)
"The clubs do a great job explaining to the parents how things are going," he added. "It's all about educating the parents as well. The parents follow really well what's happening. If the coach is not good enough, the parents will talk to the club and say, 'Hey, you have to do better.' Which means that all the clubs send all their coaches to the FA to educate themselves. So it's a very healthy society in those terms."
Arnar himself has three kids who, of course, play football. "I have already gotten to know a lot of parents around their teams. These are people I hang out with. It becomes a family."
In fact, Arnar attributes Iceland's rapid rise more to the standardized caliber of their coaches than to their famous indoor football halls. "We have had qualified coaches from day one. That's one of the reasons we can compete," he said. "Like my 6 year old, he's starting to play football. His coach will have a UEFA B license, even a UEFA A license. He will probably be a PE teacher as well. This means his training session will be very well organized. It will be fun and very healthy for him. So that means he is more likely to fall in love with the game, and if you fall in love with the game, you go and play football outside of the organized training session."
Good coaches beget better, funner training sessions, which begets players who are free, fearless, and love the game. And when this child wants to go out and practice on their own, they can go to a mini-pitch right down the street.
"I really believe that focusing on good coaches when you're young is really important, because that's also when you learn to train. It's when you learn how to behave on a football pitch and in a football training session. Too many countries, the coaches with the least experience are coaching the kids with the least experience. I really think this is a big factor," he added.
How Good It Is to Be Few
Many describe Iceland's style of play to be ego-less, a team that supports one another and has an extremely close relationship with their fans. One droll, if perhaps exaggerated, anecdote from the World Cup was the national team recognizing half of the Iceland fans in the stands.
"I think we're always finding out more and more how good it is to be few," said Arnar. "It's so easy to organize when you're few. We never miss out on talent, for example. When we choose the national team, we see all the best players, and if you don't see them, we will get a phone call."
One of the fundamental ways the KSI achieves this is to avoid early selection, so that no promising talent falls through the cracks.
"Infrastructure and philosophy are very important," Thorlakur explained. "In Iceland, these two things are very strong. What are we? We are a nation of 300,000 that cannot lose anyone. We need all players, and therefore we cannot have early selection … We select very late, and by that we give every player a chance. The shy player has a chance, and the late developer has a chance."
Kids in Iceland also play locally, a surprisingly important factor in player development. Not only does staying local eliminate any logistical challenge to getting to practice, it ensures that youth have a consistent and familiar support system during their formative years.
"In Iceland, you're born into a neighborhood and you basically play for the neighborhood team until you reach the senior level," Arnar explained. "We only have 47 clubs in Iceland with the youth system—47 clubs in total. And there's no need to switch clubs because everyone has a similar service, so you can play with your friends. You can walk to training session."
Compare that to U.S. leagues, where parents often register their children in clubs hours away with coaches and kids they don't know.
"The dressing room for the national team is like a club dressing room, because everyone knows each other," Arnar said. "A lot of the players on the national team are best friends, so it's easy to have really good team spirit."
The Money Hasn't Ruined It
The bones of Iceland's football system is its affordable structure. Because sports is viewed as a public good, all those football halls, arenas, and outdoor fields are built by the municipalities and then given to local clubs with a mandate to serve the community. Players pay an annual fee to join a club, which is further subsidized by the municipality, so in the end the cost per player for year-round training never goes above a few hundred euros.
"It doesn't matter if you're the best player in the club or the worst player in the club … If you're a boy or a girl. If you're a United fan or a Liverpool fan, it doesn't matter. Everyone gets really, really good service," said Arnar.
No matter the age, ethnicity, or income, everyone in Iceland is provided with consistent, high-caliber training sessions, from competent coaches, three to four times a week.
"You can go into any club in Iceland when you're 16, 17 years old and say, 'Okay, my name is John, I never played football, I would like to play. And the club, as its policy, will say, 'Okay, you are welcome.' … Most other countries only the best ones get really good service. That's a shame if you love the game, but you're not able to play it as much as you would like."
The KSI also invests heavily back into both grassroots and high-level football. They used earnings from the Euros to hire national youth coaches full time, and distributed a chunk of the windfall money amongst their 47 clubs. They also annually invest over a $1 million a year into grassroots projects.
Moreover, the majority of the national team don't play with the best clubs in the world, so most aren't earning a huge salary. "We still have the amateur mindset, you know. We're still enjoying it. There are not a lot of players who come together who have a lot of money, you know. The money is not spoiling it yet," Arnar said.
One can see how Iceland's football organization is firmly rooted in their values—they work hard, invest wisely, and treat everyone equally. Compare this to American soccer, which is "first and foremost a business model," as Thorlakur observed. "Anyone can buy a brand of some famous club and set up a school. So the drive is money, not development."
A Football Nation
Arnar is clear-eyed and pragmatic about the state of Iceland football, so I believe him when he says their model can't be carbon copied for another country. Which makes sense when you think about it. Yes, the facilities and staff enable Iceland to thrive, but when you account for the country's history with the sport, its culture, climate, geography, population size—you come to realize it's impossible to distill this secret recipe definitively. There will always be some unknown, intangible element when the right coach and the right players at the right moment converge and achieve something divine for their nation.
Still, there are many valuable lessons that can be learned from their country, especially for the U.S.
Thorlakur's advice?
"Come up with a plan so all kids in America can play football, not only those who have money. It should be mandatory for coaches to have a coaching badge. Handpick people who want to work only in youth development and keep them in that section. Bring foreigners over who are specialists in youth development. Identify what the American player should look like based on the DNA or mentality of the people who live there. Look for hardworking people and players, look for creativity and critical thinking."
Iceland does not have a perfect football system. Unlike most elite football countries, it lacks academies, so it struggles to provide the best athletes with special training—a side effect of its egalitarian culture. And it still has a long way to go to reach the level of the world's top teams.
"Obviously our playing style is not very attractive," said Arnar. "But we have to play to our strengths. If we go and play some tiki taka football, we will be a really, really bad replica of like Barcelona. It just doesn't work."
Arnar pointed to the rosters of leading international teams as reference. Take France, for example, where every single player competes in the Champions League, compared to just one Iceland player doing the same.
"They have better football players than Iceland, so we have decided, okay, what can we be best at? We can have the best team spirit. We can be the best organized team. We can be better at set pieces. We can be best at counterattacks … In the future, with better technical players, hopefully our style of play we will see a higher percentage of ball possession."
What Iceland does possess is a powerful mentality born of survival and a deeply rooted sense of community. They bear a profound, well-earned pride in their people and culture. In Iceland, people play football because they love the game, and because they love the game, they've made it possible for everyone to enjoy. No matter the country of origin, this is something to aspire to, even if it can't be replicated.